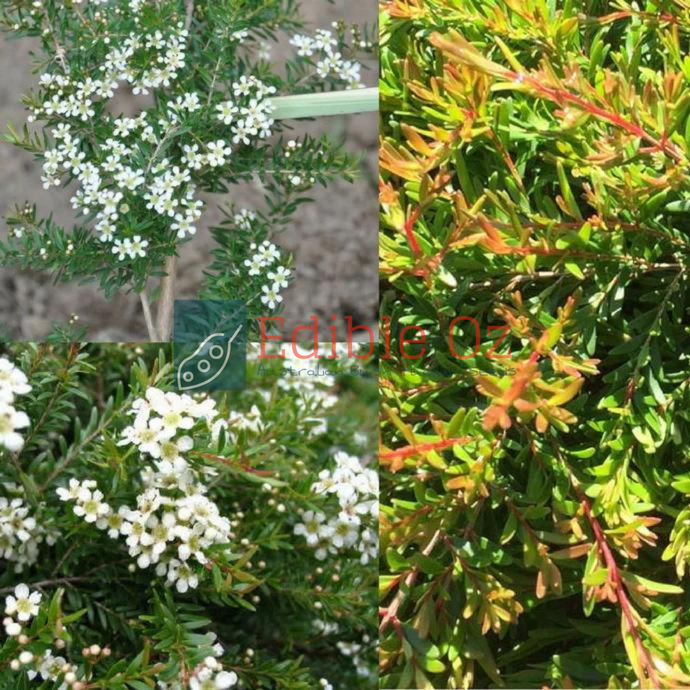 TWIGGY HEATH MYRTLE (Baeckea virgata / Sannantha virgata) 'Bush Tucker Plant Seeds'
Regular price $3.95 Sale
or make 4 interest-free payments of $0.98 fortnightly with
More info
A hardy evergreen shrub that bears masses of small white flowers in summer. The foliage is soft and fine leaved. Grows to around 2 meters high and wide.
Very hardy suitable for coastal plantings and boggy sites and makes an excellent hedge due to its lovely dense foliage. Dry tolerant once established, frost and moderately salt tolerant.
Light: Half Sun / Half Shade
Wind: Wind Tolerant
Growth: Fast
Frost: Hardy
Bush Food: The leaves can be steeped in water to make an aromatic tea, Honey producing plant.
Other uses: This species has potential as a filler in the flower trade.
Germination: Seed require no pre-treatment. Germinates in 2- 3 weeks 
Comments: This plant has had to endure an identity crisis, starting as Baeckea virgata, then being re-classified as Babingtonia bidwilli - only to then be re-classified again to now be Sannantha virgata.