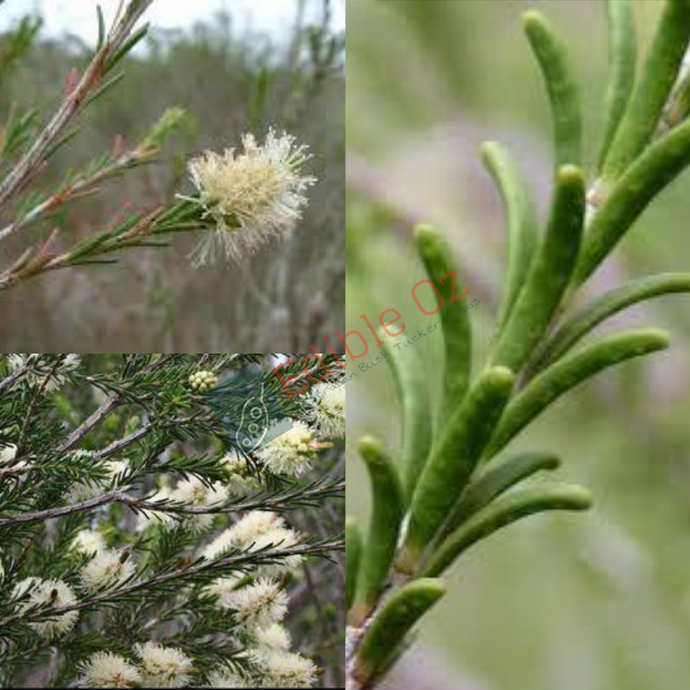 ROUGH BARK HONEY-MYRTLE (Melaleuca parvistaminea) 'Bush Tucker Plant Seeds'
Regular price $3.95 Sale
or make 4 interest-free payments of $0.98 fortnightly with
More info
Melaleuca parvistaminea also known as Small-flowered Honey-myrtle, is a plant in the myrtle family, is endemic to the states of New South Wales and Victoria.
A shrub or small tree to about 4 metres tall with fibrous rough bark., small cream sweetly- perfumed flowers spring–summer. Flowers solitary in white to cream, petals often tinged with pink. Grows in open forest communities, usually along streams or on damp ground.
Bird attracting - 

Food and habitat

Butterfly attracting -

Nectar for butterflies
Bush Food: A great nectar plant for honey production, melaleuca flowers can be soaked in water to produce a sweet-tasting drink.
Bush medicine: Oil from leaves - medicine
Other uses: Stem and root used for making clubs
Germination: The seed of melaleuca species is usually quite easy by normal seed raising methods. No special pre-treatment is needed. Germination should occur in 14 to 30 days.
A common method used for germination of melaleuca and related plants is the "Bog method" where the pot containing the seeds is placed into a saucer of water until germination occurs. This results in moisture reaching the seeds by capillary action and ensures that the seeds do not dry out.