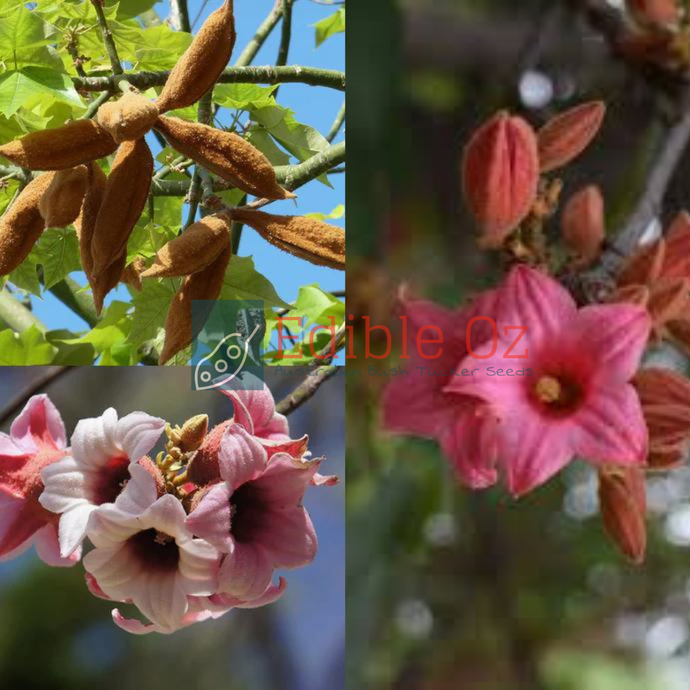 LACEBARK TREE / PINK KURRAJONG (Brachychiton Discolor) 'Bush Tucker Plant Seeds'
Regular price $3.95 Sale
or make 4 interest-free payments of $0.98 fortnightly with
More info
Common names include lacebark tree, lace kurrajong, pink kurrajong, scrub bottle tree, white kurrajong, hat tree and sycamore.

An attractive tree up to 30 metres tall
Flowers form from November to February. Leaves shed just before flowering.
They have a compact root system so can be grown as a street tree, near infrastructure such swimming pools or in containers. Bark is smooth and green when younger turning grey with age. The flowers are pink, almost without stalks, 3 to 4 cm in diameter. 

The fruit is a hairy boat shaped follicle maturing from December to July. 7 to 20 cm long, containing up to 30 seeds, 9 mm long.
A plant mainly of the subtropics in eastern Australia, just moving into the tropical areas.
It is tolerant of some frost, prefers a sunny position
Grows best in a moist but well-drained, fertile soil
Established plants are drought tolerant

The tree grows rapidly when given good conditions.
 
Bush food: Seed - cooked/roasted have a delightful nutty flavour.
Other uses: The wood of Brachychiton discolor is often used to make shields by indigenous Australians.

Germination: Germinates easily, especially if pre-soaked for 12 - 24 hours in warm water. The seed stores well at room temperatures - 15 year old seed had a 54% germination rate.