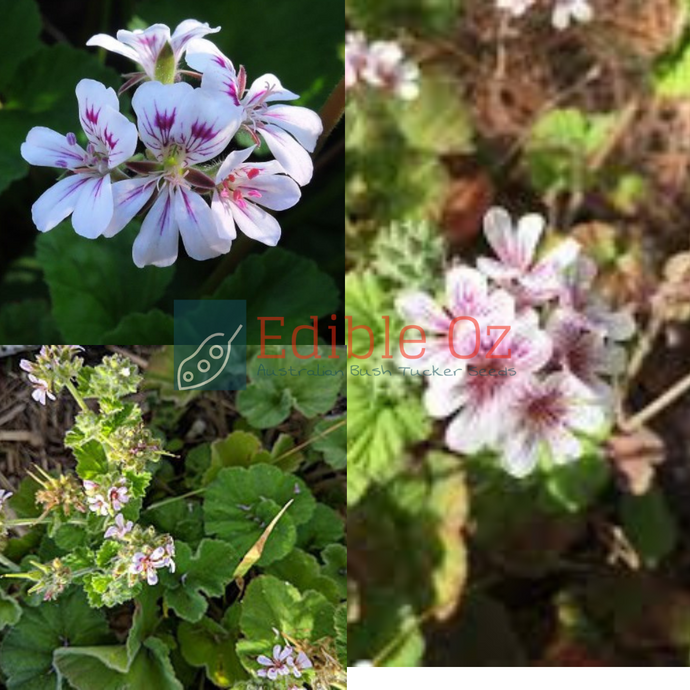 NATIVE STORKSBILL / WILD GERANIUM (Pelargonium australe) 'Bush Tucker Plant Seeds'
Regular price $3.95 Sale
or make 4 interest-free payments of $0.98 fortnightly with
More info
Pelargonium australe is a perennial herb that is endemic to Australia, and found in all states except the Northern Territory.
A dense, spreading, perennial herb with large, rounded leaves and branched clusters of white and pink or mauve flowers in Spring/Summer, trailing habit & thick fleshy taproot. Frost hardy. 
An excellent container or hanging basket plant to being a great border or rockery plant. It's an ideal choice for coastal gardens where many other plants may struggle with sandy soil and salt spray.
In cultivation, the species prefers a sunny or lightly shaded position and is adaptable to a wide range of soil types. It is readily propagated by cuttings.
Bush Food: Edible fleshy taproot
Germination: No pre-treatment is required,  Surface sow, cover lightly with gravel, the seed germinates best with a minimum temperature of 13°C, germination usually taking place within 2 weeks 
        Video by Whip bird environmental
In this video Whip bird environmental discuss the lovely Australian native plant Pelargonium australe.
*seed and chaff