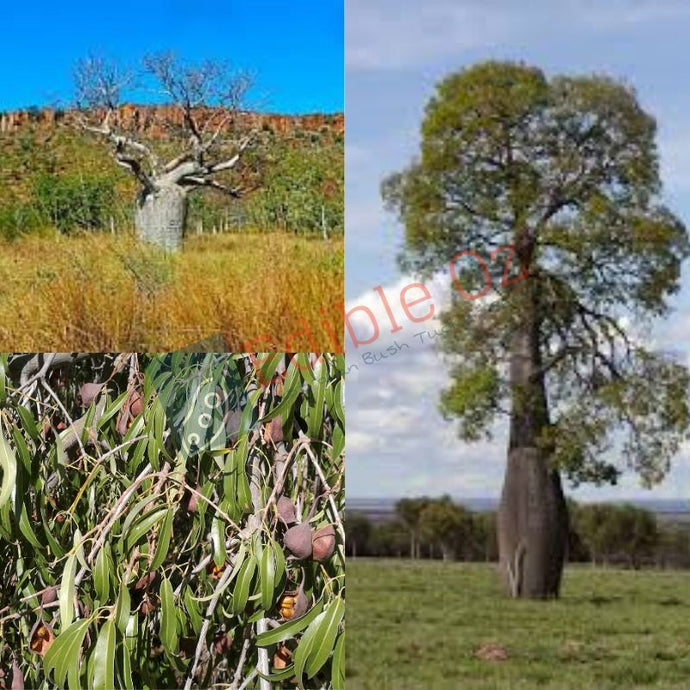 NARROW-LEAVED / QUEENSLAND BOTTLE TREE (Brachychiton rupestre) 'Bush Tucker Plant Seeds'
Regular price $3.95 Sale
or make 4 interest-free payments of $0.98 fortnightly with
More info
Brachychiton rupestris, known as the narrow-leaved bottle tree or Queensland bottle tree, is native to Queensland, Australia.
Reaching 10–25 metres (33–82 ft) high, the Queensland bottle tree is deciduous. Cream-coloured flowers appear from September to November, and are followed by woody boat-shaped follicles that ripen from November to May.
As a drought-deciduous succulent tree, B. rupestris adapts readily to cultivation and is tolerant of a range of soils and temperatures. 
Bush food: The seeds, roots, stems, and bark have all traditionally been a source of food for people and animals alike. The seeds, young roots and shoots were cooked and eaten, The young leaf shoots can be used as a salad vegetable. 
The wood contains a nutritious jelly. By making a hole in the trunk, sap could be obtained for drinking. 
Other uses: Another use has been made of the fibrous inner bark to make twine or rope and even woven together to make fishing nets.
Germination: Soak overnight in hot water, once the seed is swollen it is ready for sowing.