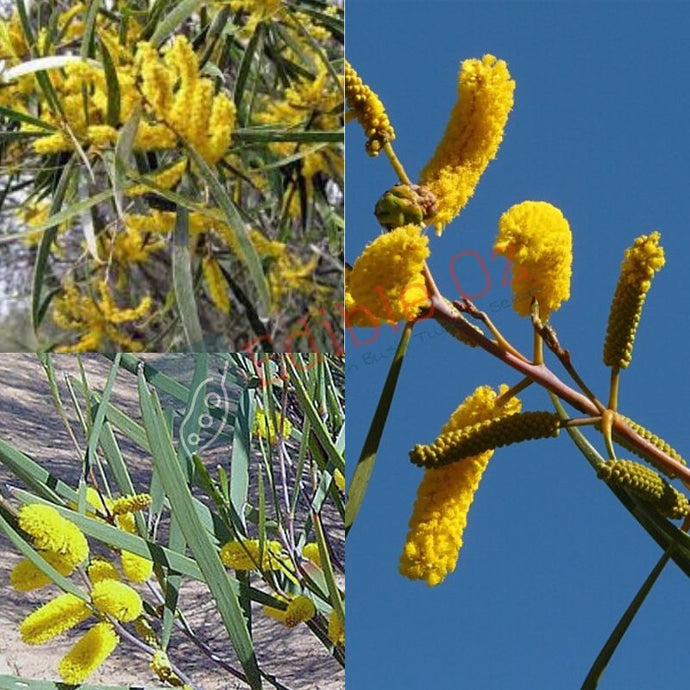 'MANGART' RASPBERRY JAM WATTLE (Acacia acuminata) 'Bush Tucker Plant Seeds'
Regular price $3.95 Sale
or make 4 interest-free payments of $0.98 fortnightly with
More info
Acacia acuminata grows as a tall shrub or small tree growing 3-7m, The lemon yellow flowers are held in tight cylindrical clusters about two centimetres long, flowering occur late winter to spring. 
The Noongar peoples know the tree as Manjart, Munertor, Mungaitch or Mungat. The common name raspberry jam tree refers to the strong odour of the freshly cut wood, which resembles raspberry jam.
The nutritional composition of the numerous seeds, a shiny brown-black colour, is 45% protein, 28% fats and 15% carbohydrates.
Mangart as high frost tolerance and medium salt tolerance. 
The extensive use of the plant for wood, food and medicine by Nyungar peoples saw it regarded as a valuable resource. The orange-coloured gum (resin) is also edible and can be used to make tea.
The abundance of seed was made into flour. The sap was collected and administered as medicine, either immediately or prepared and stored for later use. The wood was preferred in the manufacture of kylies, a boomerang-type weapon.