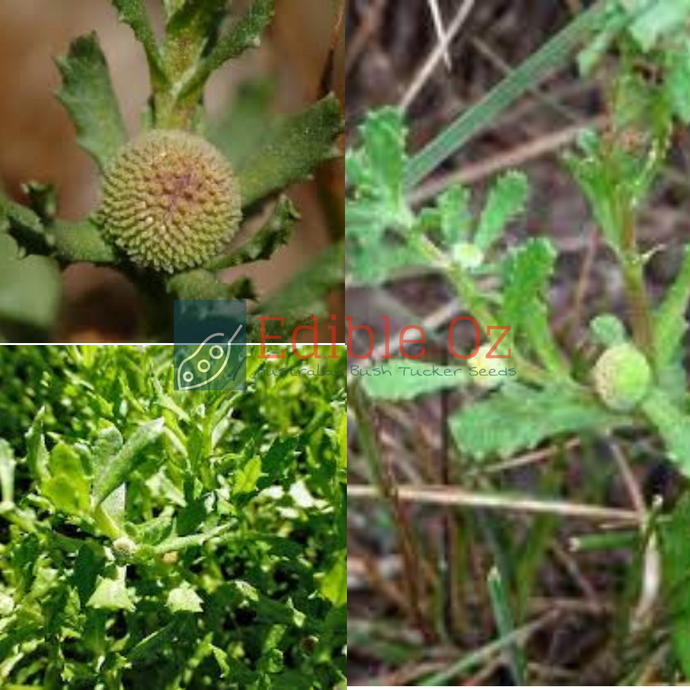 'GUKWONDERUK' OLD MAN WEED / COMMON SNEEZEWEED / SCENT WEED (Centipeda cunninghamii) 'Bush Tucker Plant Seeds'
Regular price $3.95 Sale
or make 4 interest-free payments of $0.98 fortnightly with
More info
Centipeda cunninghamii, commonly known as Old Man Weed, is an endemic Australian traditional medicinal plant with over 150 years of documented use. Its extracts have been patented for use in a range of cosmetic applications, including skin care, deodorants, exfoliation, and as a general anti-inflammatory and anti-oxidant in nutraceuticals and cosmeceuticals.
A perennial herb of the daisy family, Asteraceae, C. cunninghamii is identifiable by its unique leaf shape and a highly aromatic scent reminiscent of pine and peppermint.
In nature, C. cunninghamii can be found generally anywhere there is water, especially in low lying or swampy areas.  A great plant for situating along pond edges or as ground cover for bog gardens. The plant does best when positioned in a sunny location. 
Bush Medicine: The plant has long been used by the indigenous Koori tribe for its medicinal properties to treat a wide range of ailments.  Teas or other preparations were used to treat various ailments including coughs, colds and skin irritations, and even tuberculosis.
The stems and leaves can be boiled in water to make a tea for oral ingestion, or to prepare a solution for topical application to externally inflamed skin or abrasions and cuts.
Traditional medicinal uses of C. cunninghamii have included external treatment of skin conditions such as psoriasis, eczema, acne, and cuts and abrasions, and hair loss.
Germination: Easy to germinate, sprinkle on a fine sandy soil, water and wait a couple weeks. Germination rates over 80%