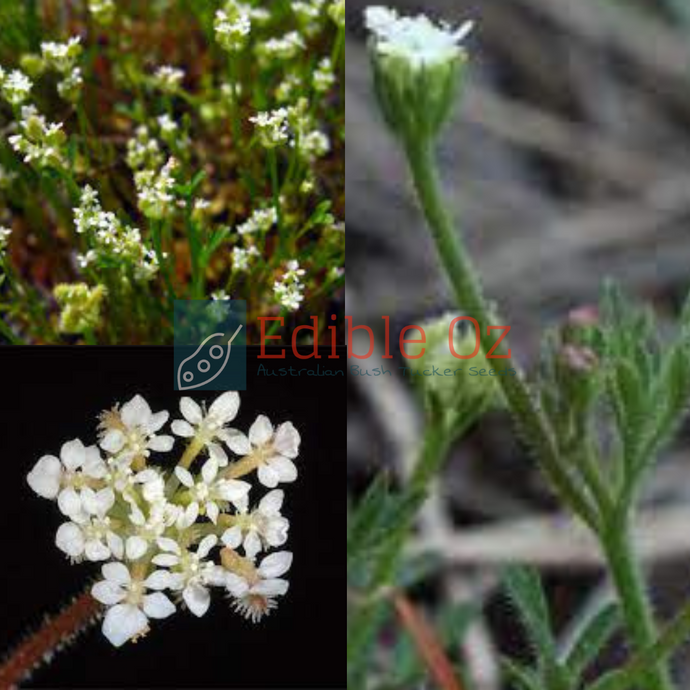 DWARF NATIVE PARSNIP / WILD PARSNIP (Trachymene pilosa)
Regular price $3.95 Sale
or make 4 interest-free payments of $0.98 fortnightly with
More info
An under-utilised native tuber, a close relative to carrot, parsley and European parsnip, this native Australian perennial tuber has been assigned the botanical genus Trachymene. 
T. pilosa, is a dwarf variety which is common in the wheat belt regions of western and southern Australia. 
Australian wild parsnips are typically smaller than European ones and grow slower.
Parsley-like leaves
Flowers in spring through summer
Flowers white or pinkish white
Taproot is a long, sometimes tough but edible tuber.
Taproot and crushed leaves smell faintly like carrot or parsley
Its delicate white flowers are sure to add a splash of colour to your landscape. It is a low-maintenance plant, requiring minimal care.
Bush food: Native parsnips can be used in the same way as European versions. Serve roasted or pan fried, can also be enjoyed raw in salads.
Germination: Best sown in spring, just before the last frost. Lightly cover the seeds once sown. Ideally should be spaced about 20 to 25 cm (8 to 10 inches) apart.