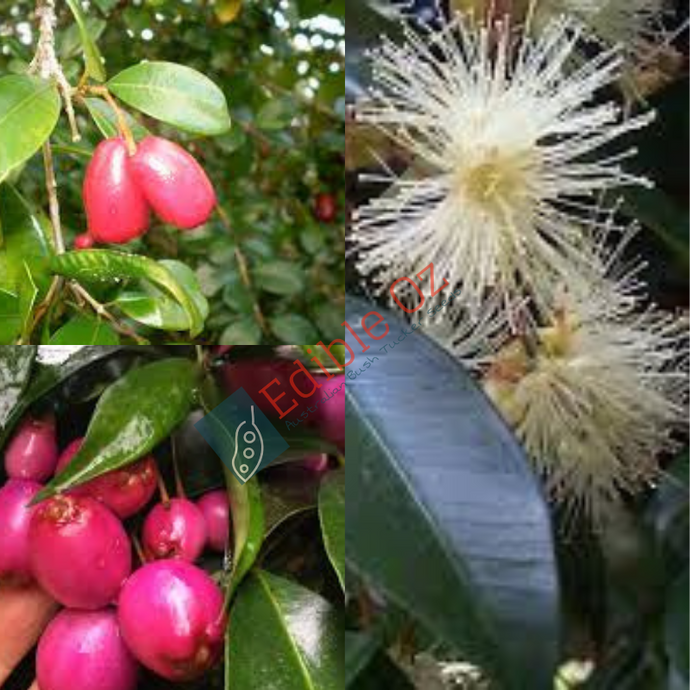 MAGENTA LILLY PILLY (Syzygium paniculatum) 'Bush Tucker Plant Seeds'
Regular price $3.95 Sale
or make 4 interest-free payments of $0.98 fortnightly with
More info
Syzygium paniculatum, Magenta lilly pilly is a rainforest tree native to New South Wales, Australia. A shrub to medium tree, to about 15 – 20 m tall in its natural habitat. It grows along the coast , in subtropical and littoral rainforests, it has a dense and bushy habit with flushes of red new growth.
Can be planted in sun to part shade. Regular watering, mulching and fertilising will ensure best growth. This is a relatively fast growing Lily Pily, growing approximately 3-4 metres tall depending on soil conditions. It is a good option for a hedge or dense screen.
Tolerates light frost,  can cope in a range of soils however well-drained soil is preferable.
Bush Tucker:  The fruits  mostly magenta pink, but can also be white or purple. are edible and with a pleasantly sour apple-like flavour often made into jams. They can also be eaten fresh and have a crisp, refreshing texture.
Syzygium paniculatum usually takes about 6 weeks to germinate depending on the temperature and the soil moisture. Ideal temperatures for Brush cherry germination is 18-26 degrees Celsius (65-80 F). The soil needs to be moist, but not waterlogged as this can rot the seed. Plant the seeds about half an inch deep in soil. If planting in a pot, make sure it has good drainage. Germination may be slow and spasmodic.