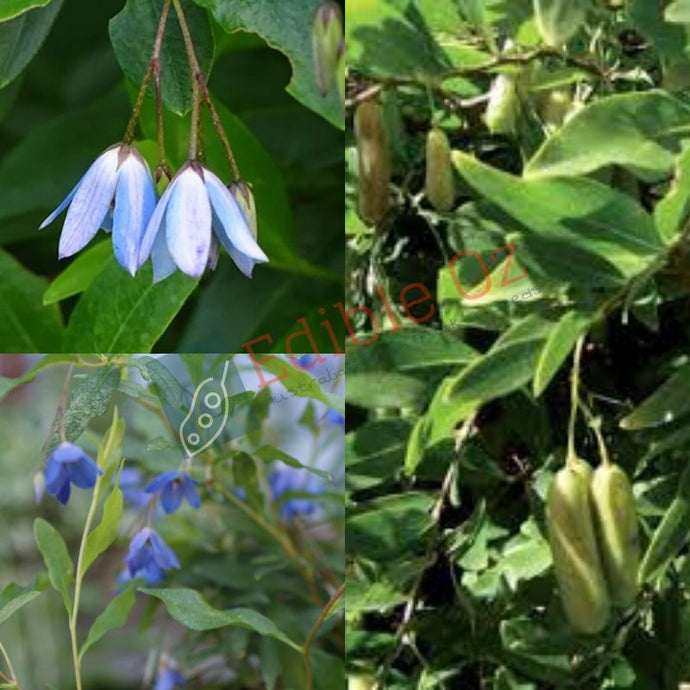 'GUMUG' BLUEBELL CREEPER (Billardiera heterophylla) 'Bush Tucker Plant Seeds'
Regular price $4.20 Sale
or make 4 interest-free payments of $1.05 fortnightly with
More info
Billardiera is a genus of about 25 species, mainly light climbers or small shrubs. All occur only in Australia with the majority being found in Western Australia.
Billardiera heterophylla is a moderately vigorous climbing plant whose branches twine around the stems of other plants. 
The flowers are bell shaped, up to 10 mm long and are usually seen in summer. They are usually deep blue in colour, occurring in clusters of 2 or more followed by green edible berries that darken with age and can be eaten raw once ripe,  has an apple taste.
Fruit can be up to 2.5cm long with many small seeds amongst the pulp.
Grow in sun to part shade. It readily seeds and can be spread far by birds, so it can become weedy and invasive to surrounding bushland.
Average Water Needs; Water regularly; do not overwater
Full Sun/Sun to Partial Shade/Light Shade
This plant is attractive to bees, butterflies and/or birds
Australian bluebell care is very minimal once established and it has the ability to withstand drought once mature.

Bush Food: Green edible berries that darken with age are quite sweet with a soft texture and can be eaten raw once ripe,  has an apple taste.
PLEASE NOTE: WE ARE UNABLE TO POST THIS VARIETY TO SOUTH AUSTRALIA.