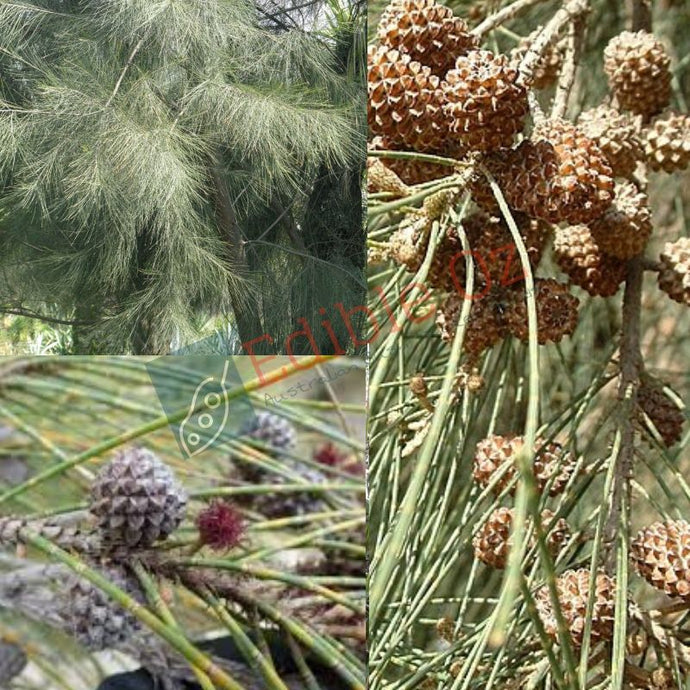 'BILAWI' RIVER SHE-OAK (Casuarina cunninghamiana) 'Bush Tucker Plant Seeds'
Regular price $3.95 Sale
or make 4 interest-free payments of $0.98 fortnightly with
More info
A long-lived, relatively fast-growing from the north and north east coast of the country.  Useful for soil retention and erosion control. Its tendency to sucker makes it a good tree to plant along river banks or waterways.

The largest of the casuarinas and very good at stabilising river banks. Foliage appears from top to bottom making it a good windbreak.
Ranging in height from 15 to 35 metres.
An important tree  as it provides resin, seed cones, seed, wood and habitat for Budyaan (Birds), notably the red and yellow tailed black cockatoo.
Soil Texture

Clay, Loam

pH

Acidic, Alkaline, Neutral

Tolerates, 

Drought
Bush Food: The seeds are used for food by crushing them into a paste, grubs found boring in the tree are another source of food. 

Other uses: Timber makes and excellent firewood as well as a craft wood. Indigenous Australians have traditionally used the wood for shields, clubs and boomerangs and to
extract resin.