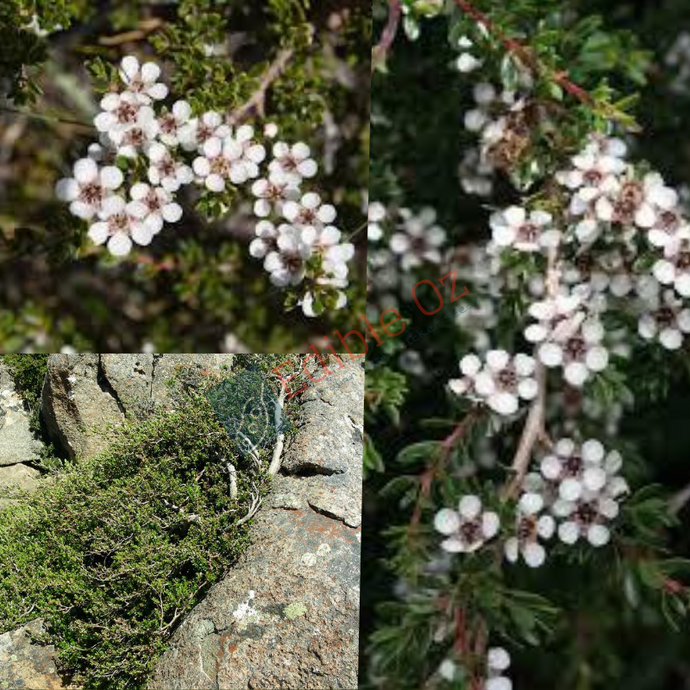 ALPINE TEA-TREE (Leptospermum rupestre) 'Bush Tucker Plant Seeds'
Regular price $3.95 Sale
or make 4 interest-free payments of $0.98 fortnightly with
More info
Leptospermum rupestre, commonly known as alpine tea-tree or prostrate tea-tree.  It is endemic to Tasmania. In alpine areas it assumes a prostrate habit while in sub-alpine areas it appears as a large shrub, found growing in a sunny situation on light to medium soils.
Fragrant white flowers occurring in Summer-Autumn. It is drought and frost resistant. This species has shiny dark green leaves on arching reddish tan branches. 
It is ideal as a groundcover plant or for rockeries.
Bush Tucker Uses:  Honeybees gather the nectar from its flowers.  Aromatic leaves were used for medicine; the stems of tall species were used for spears.

Germination: Sow light scattering of seed and cover lightly. Germinates in 2-5, Late Spring-Summer. Optimal germination temperature 18-25°C. 
Seed retains viability for several years stored at room temperature.

Tea trees are particularly important for the survival of our native bush bees.