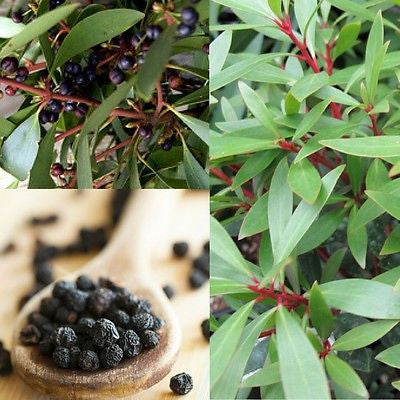 NATIVE MOUNTAIN PEPPER (Tasmannia lanceolata) 'Bush Tucker Plant Seeds'
Regular price $3.95 Sale
or make 4 interest-free payments of $0.98 fortnightly with
More info
A shrub native to cool temperate rainforests of South-eastern Australia. Height varies from 2 - 10m, stems are quite red in colour.
The small cream or white flowers appear in Summer and are followed by black berries 5-8mm wide which appear in Autumn.
There are separate male and female plants. The berries attract birds including Currawongs that feed on them. Prefers well-drained sols in partial shade to full shade and are frost hardy to -8c (20-22f)
Bush food: The leaf and berry are used as a spice, typically dried. The berries are sweet at first with a peppery aftertaste. 
Berries are ripe when they change from red to black.
Germination: Cold stratification for 28 days is highly recommended for this species. Sow seed just under the surface in full sun to part shade, untreated seed can take 6-9 months to germinate.
 *Seed in fruit