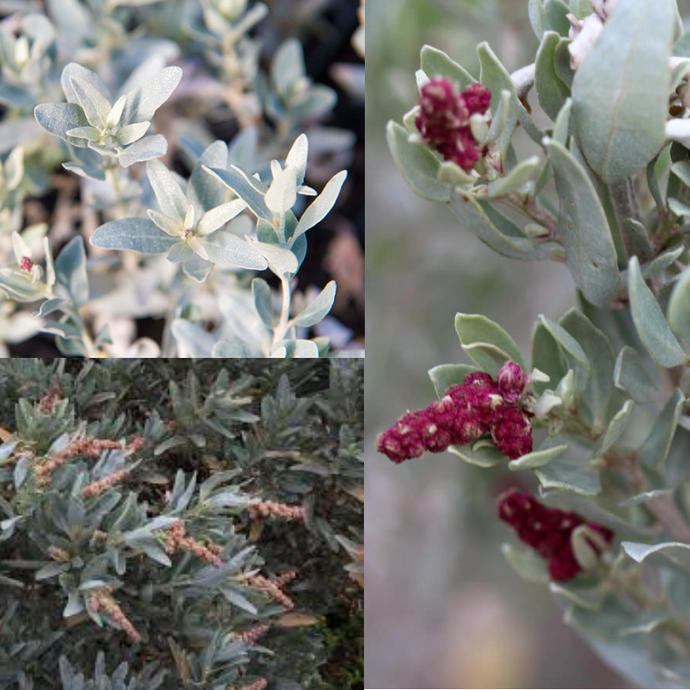 'TRUGANINI' BARILLA / GREY SALTBUSH (Atriplex cinerea) 'Bush Tucker Plant Seeds'
Regular price $3.95 Sale
or make 4 interest-free payments of $0.98 fortnightly with
More info
Atriplex cinerea, commonly known as grey saltbush, coast saltbush, barilla or truganini, is a plant species in the family Amaranthaceae.
It occurs in sheltered coastal areas and around salt lakes in the Australian states of Western Australia, South Australia,  Tasmania, Victoria and New South Wales.

Local native used extensively for stabilising sandy soil. It is both salt wind and salt water tolerant.

The grey contrasting foliage of this plant contrasts well with other green foliage natives.
This drought hardy understory plant also does well when planted beneath gum trees.  Erect or spreading shrub to 1.8 m high.
Flowering between June and December.

Water as required for 8-13 weeks until established. Minimal maintenance required, a light prune after flowering will encourage new growth and keep the plant looking healthy.

Bush Food:
Saltbush is a high protein vegetable.
Saltbush has drawn salts from the ground into the leaves to provide a unique salty flavour. The foliage is used in stir fry dishes or as a stuffing for chicken and lamb. Leaves can be roasted for a crunchy salty garnish.

Germination: 2-3 seeds can be sown directly into pots.