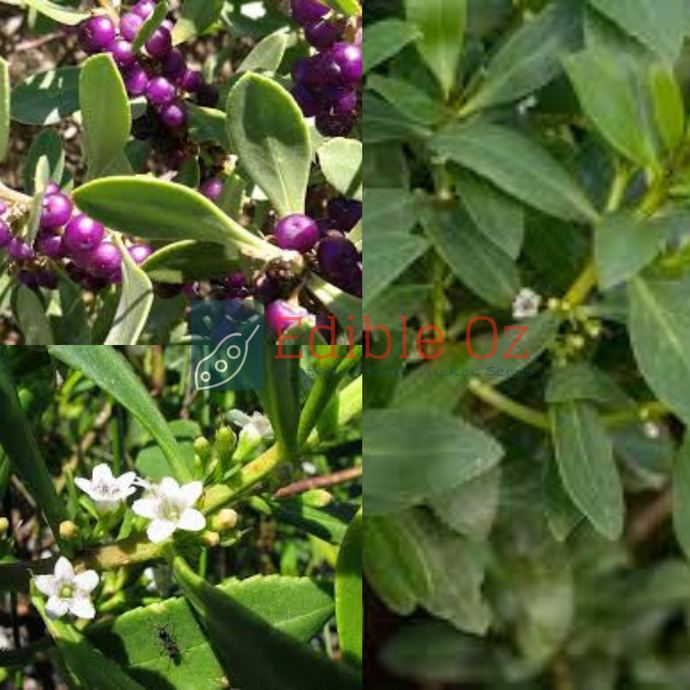 'BOOBIALLA' NATIVE JUNIPER / BLUEBERRY TREE (Myoporum insulare) 'Bush Tucker Plant Seeds'
Regular price $3.95 Sale
or make 4 interest-free payments of $0.98 fortnightly with
More info
Native of Western Australia, South Australia, Victoria, Tasmania and New South Wales. Native juniper or blueberry tree is a flowering plant in the figwort family Scrophulariaceae. 

Plants can be grown as a hedge or screen, tolerating maritime exposure. The plant is fire resistant.

Boobialla is hardy and can adapt to many climate and soil conditions, though it does best in an easily draining, sandy soil in full sun. 

Produces small white flowers through Spring - Summer (in warmer areas of Australia, it's not unusual to experience a long flowering season), with fruit following shortly after. To harvest, simply pluck berries once their colour deepens.
Suitable for pots
Dimensions: Height 30-50cm, Width 1-2m
Tolerates drought, sandy soils, salt
Fruits from: Year 1 onwards
Bird attracting, attracts bees & insects
Prune year-round as desired — this will not affect flowering or fruiting of the Boobialla

Bush food: Fruit - raw or cooked,  apple-textured with a flavour is described as somewhere between stewed apples and kiwifruit.  Great for jams, jellies and preserves, Juicy and sweet, The fruit is about 6mm in diameter. Aromatic, juniper-like qualities makes Boobialla an exciting local botanical for essential oils and gin. A fantastic native plant that produces delicious apple-textured berries. Their flavour is described as somewhere between stewed apples and kiwifruit. 

Germination: Can be difficult to grow from seed - may be slow to germinate (may take 12 months). Sow Seeds Late Summer-Early Autumn, soak overnight in warm water before sowing.