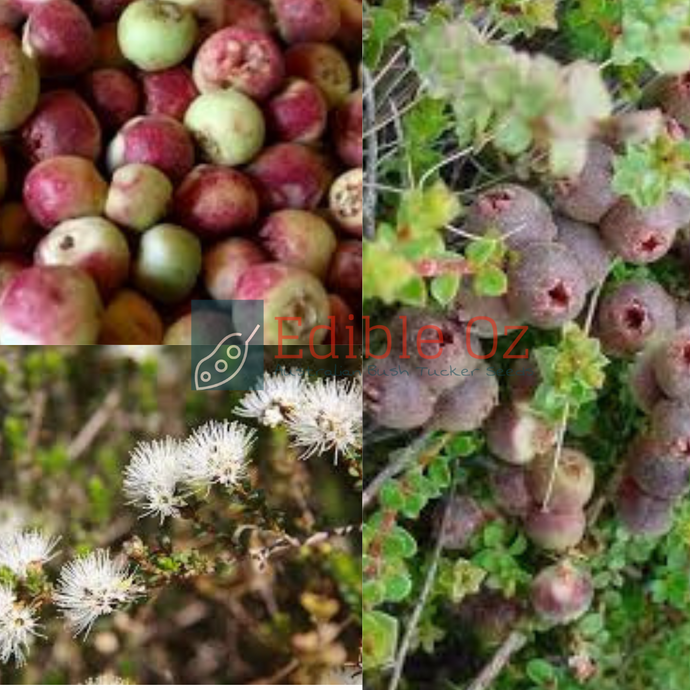 'MUNTRIES' EMU APPLES / NATIVE CRANBERRY (kunzea pomifera) 'Bush Tucker Plant Seeds'
Regular price $4.20 Sale
or make 4 interest-free payments of $1.05 fortnightly with
More info
Kunzea pomifera, commonly known as muntries, emu apples, native cranberries, munthari, muntaberry or monterry.

The berries produced by these plants are about 1 cm in diameter, green with a tinge of red at maturity and have a flavour of a spicy apple.
Crunchy in texture, muntries contain up to four times more antioxidants than blueberries and provide natural waxes that are good for skin nourishment.

Muntries grows in Victoria and South Australia. In Victoria in grows mainly in sandy soil in the Little Desert and Big Desert and small populations between Portland and Nelson. In South Australia it grows in sandy soil, often with limestone, between the Yorke Peninsula and the Victorian border.

A dense ground covering plant that handles full sun or dappled shade.
While muntries are a groundcover in the wild, commercial growers have successfully managed to trellis the plants. Trellised muntries allow easier access for harvesting and management. 

Tolerant of drought, frost and lime soils. Produces an abundance of white flowers in spring, followed by berries in late summer/early autumn.  The plant is pollinated by insects, so planting other spring flowering plants around will help with pollination.

Great groundcover, also suppresses weeds.

Muntries seem to prefer well drained soil of a moderately acid to strongly alkaline pH (6.0 - 8.0

Bush food:  Perfect for eating raw in salads and cheese platters, or cooked in jams, pies, muffins, puddings or with meats.

Germination:  Best to sow this seed in spring. Use a potting medium that is free draining and sow the seed on the top of the mix. Keep moist until germination occurs. It can take several weeks for the seeds to germinate.