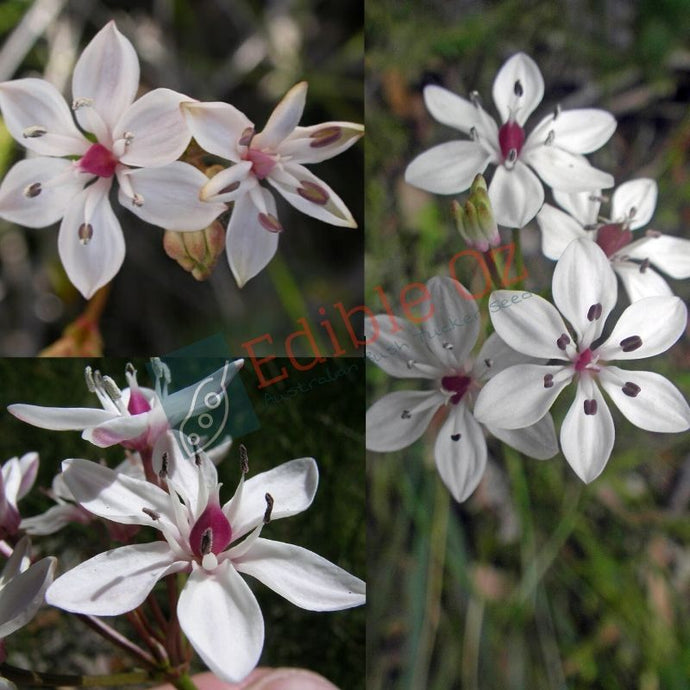 'POPOTO' MILK MAIDS (Burchardia umbellata) 'Bush Tucker Plant Seeds'
Regular price $3.95 Sale
or make 4 interest-free payments of $0.98 fortnightly with
More info
Burchardia umbellata (milkmaids) is a perennial lily/herb native to woodlands and heath of eastern and southern Australia, known in all states.
White and reddish honey-scented star-shaped flowers from September until November, in dry sclerophyll forests.
Dies down after flowering and re-shoots. Roots are tapering, carrot-like and available year-round.
Very attractive, fragrant ornamental for rockeries, containers and informal garden drifts. Plant in groups for best effect.
Prefers open position in well-drained soil. Tolerates drought and frost. Resents poor drainage but accepts semi-shad
Bush Food:  edible potato-like tubers. The tubers can be eaten raw or cooked. They are white, fleshy, crisp, and starchy, with a nondescript flavour.
Watering during flowering is beneficial. Watering dormant plants rots tubers.
Smoking seed enhances germination. Sow seed in autumn